Flood Insurance
Flood Insurance in Des Moines, West Des Moines and Surrounding Areas
Keeping Homeowners and Businesses secure in Des Moines, IA
Floods cause all kinds of damages; erosion, structural integrity compromises, and property destruction among them. These damages can result from floods that occur as a result of storms, overflows, and a variety of other things, and in any case even the slightest flooding can result in high costs. Insurance is a way of reducing and even eliminating these costs and keeping individuals and businesses secure in the events of floods.
At Montgomery St. John Insurance we work with the provisions of the National Flood Insurance Program (NFIP) to deliver optimal, customized flood insurance plans. We have our own flood insurance program and we adapt this program to individual clients' needs to provide the greatest protection for the best price.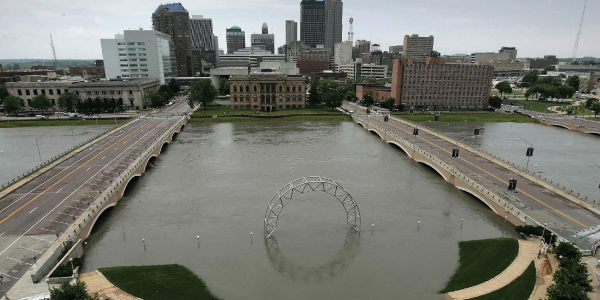 Extended and Specialized Coverages tailored to you
Flood insurance coverages are generally for structures and property and the limits for these coverages are set, in most cases, by the federal government. Special coverages are available, but in most cases the options provided by the NFIP are what insured parties and insurers can work with. Common flood insurance policies include General Property, Residential Condominium Building Association, and Standard Dwelling. These and other policies can be purchased as standalone policies or in combinations.
Flood insurance covers many things, including:
Personal items (clothes, electronics, furniture, etc.)
Non-drywall walls or ceilings
Carpeting
Paneling
Bookcases and built-in units
Window treatments
The limits of flood coverages cannot be exceeded, but an independent agent can help you find the right limits for your needs. Often, an agent can also find ways to accentuate flood coverage with other coverage from different insurance policies so that what is not covered by flood insurance is covered by other insurance.
Another thing to consider is reimbursement value. Replacement cost value (RCV) and actual cash value (ACV) are the two reimbursement options you have. Businesses more often have the RCV option, which reimburses for a damaged item without consideration for depreciation, than homeowners because of the difficulty of establishing proper item value. Your agent at Montgomery St. John can help you take advantage of RCV whenever possible.
Contact Us
Contact us in Des Moines, IA, or give us a call at (515) 287-2443 to learn more. If you're ready to start on a policy, you can also request a quote.
Montgomery St. John Insurance is proud to provide flood insurance in Des Moines, IA and the surrounding areas.
---
We Love to Help!
Contact us today
---
Great service. And they always get back with you in a timely manner.